Still your mind in me,
Still yourself in me,
And without doubt
you shall be united
With me,
Mother of Love,
dwelling in your heart.

This gentle passage from the Hindu scriptures, Bhagavad Gita, speaks to us of the calm and deep peace we all carry in the core of our being. The practice of meditation can help us find that place of inner quiet.
Watching honeybees at work can be a mesmerizing experience. Past summer's Camp Eureka campers were quietly intrigued as they studied bees at work in an observation hive. Learn how to keep your own bees on March 19, 2016 at our Old Style Life Skills Series workshop BEEginning with Bees.
Motherhouse – A Time… A Place… A Support… for Nurture
making connections with Self, Family, Community, and our Mother Earth
2016 Camp Registration is OPEN!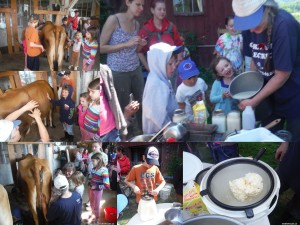 See our Camp Eureka scrapbook report on how we made butter; from milking a cow, to separating cream, to churning, and so much MOOre!!!
Where Farm and Fun Collide
Camp Eureka campers raise their hand-carved wooden spoons in triumph after an afternoon Lost Arts workshop with Joe Brien.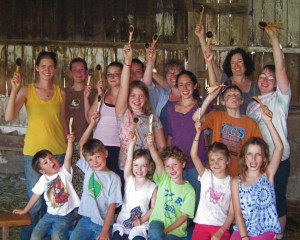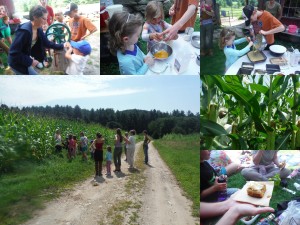 from cornfield to freshly baked corn bread ...discover, appreciate, and understand the world through immersive education, multi-generational contact, and creative exploration of farm and nature... at CAMP EUREKA