Upcoming Events
December 22, 2014 10:30 am

New Moon Gathering

January 3, 2015 7:00 pm

Family Country Dance

February 7, 2015 7:00 pm

Family Country Dance

September 5, 2015 7:00 pm

Family Country Dance

October 3, 2015 7:00 pm

Family Country Dance

December 5, 2015 7:00 pm

Family Country Dance
AEC v1.0.4
Recall the honeybees'
Source in Spirit
Be calm in their mystery
Provide their natural circumstances
As best you can
Allow their natural tendencies to emerge
Refrain from manipulating them
Keep selfish ends in check
They are connected
To all things...

br>
Poet Michael Goldman reminds us that effective beekeeping requires being centered and aware - much as in meditation
Visit Bees: Short Course for the full poem.
Watching honeybees at work can be a mesmerizing experience. Last summer's Camp Eureka campers were quietly intrigued as they studied bees at work in an observation hive.
Motherhouse – A Time… A Place… A Support… for Nurture
making connections with Self, Family, Community, and our Mother Earth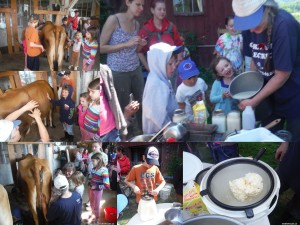 See our Camp Eureka scrapbook report on how we made butter; from milking a cow, to separating cream, to churning, and so much MOOre!!! Stay tuned for our 2014 plans for THREE one week sessions of farm camp discovery!
Where Farm and Fun Collide
Camp Eureka campers raise their hand-carved wooden spoons in triumph after an afternoon Lost Arts workshop with Joe Brien.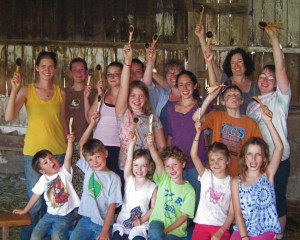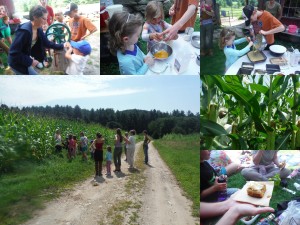 from cornfield to freshly baked corn bread ...discover, appreciate, and understand the world through immersive education, multi-generational contact, and creative exploration of farm and nature... at CAMP EUREKA